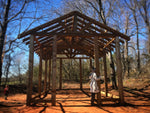 The Greenhouse | Update 2 of 3
Hello and welcome to the second of three blog posts about the construction of our greenhouse! Because of the extreme sentimental value this greenhouse has for our family (you can read about that 
here
) we do not sell our building plans. We technically never even wrote them down. The next phases were sketched into the framework, so you could say the plans are literally build into our greenhouse.
If you are planning to build your own, we ask that you adapt the design to your needs. We spent months designing ours from scratch and didn't use any references from online or elsewhere. We humbly request that you do not copy our greenhouse, rather use it for inspiration in designing and building your own.


Update 2 of 3. Read update #1
here
. 
Project Manager. Laying down on the job again.
Two inner horizontal beams were installed. This wasn't in the original plan (to have huge beams), but we added them for additional support. Plus, it looks amazing.
Ready for rafters!
Can't handle this kid.
"Everything the light touches..."
The windows fit perfectly!! Also, I've been searching FOR MONTHS for the remaining 15 windows we needed. They had to be 28x40 8 pane with the glass intact to fit within the beams and line up with what we currently have. A couple days ago, I FOUND THEM!!! They're in North Carolina! I AM SO HAPPY!!!